The Hertfordshire Cohort Study (HCS) comprises a nationally unique study of 3,000 men and women born during the period 1931-1939 and still resident in the English county of Hertfordshire during the 1990s. The HCS was initiated, developed and is maintained by the MRC Lifecourse Epidemiology Unit, University of Southampton.
The principal objective of the study is to evaluate the relationship between early (prenatal and early postnatal) growth, genetic influences, adult lifestyle and the risk of common age-related disorders such as osteoporosis, osteoarthritis, sarcopenia, type 2 diabetes and cardiovascular disease.
The NHS Central Register at Southport was used to trace men and women whose birth and infant data were recorded. Information available on these individuals includes birth weight (recorded by the attending midwife), weight at age one year (recorded by a health visitor), the method of infant feeding, and details of childhood illnesses up to age five years.
At follow-up, medical and social histories have been ascertained, as well as detailed anthropometry, blood pressure, glucose tolerance, fasting serum cholesterol and triglycerides, bone density and physical performance. DNA on all participants has been collected and is stored in the Lifecourse Epidemiology Unit. Participants are flagged for continuous notification of death on the NHS Central Register.
Extract from the Hertfordshire health visitor's records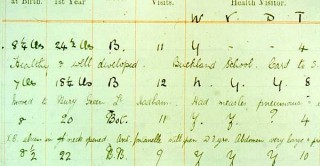 Management and funding
The study is based at the MRC Lifecourse Epidemiology Unit at the University of Southampton. It is funded primarily by the Medical Research Council, with some support from medical charities such as the British Heart Foundation and the Arthritis Research Campaign.
Accessing the data
The Hertfordshire Cohort Study has governance and access arrangements that comply with MRC data sharing policy. The survey data are accessible to bona fide researchers by contacting Professor Cyrus Cooper, Director of the MRC Lifecourse Epidemiology Unit at the University of Southampton, who can forward a collaborators' agreement.