Thank you for visiting the CLOSER website from our stand at the IASSIST 2022 conference.
CLOSER, the home of longitudinal research, is the interdisciplinary partnership of leading social and biomedical longitudinal population studies, the UK Data Service and The British Library.
Our mission is to increase the visibility, use and impact of longitudinal population studies, data and research to ensure that longitudinal evidence is used to address the health, social, economic and environmental challenges facing the UK, now and in the future.
Use the links below to learn more about our presence at IASSIST, our Discovery platform, resources for researchers, and more:
---
CLOSER at IASSIST 2022
Join the 'Partnerships and collaborations' parallel session in room G2 on Thursday 9 June (13:30-15:00 GMT+2) to hear CLOSER's Technical Lead, Jon Johnson give the following talk:
Raising the metadata bar: technology, culture and resourcing: lessons from documenting UK Longitudinal Studies
In 2012 CLOSER was established, and among its tasks was to document to the best available metadata standards in eight of the UK's longitudinal studies, which cover both social science and biomedical domains. The initial impetus was the variation amongst the studies in the available metadata, the lack of machine readable provenance information and the technical, cultural and resource barriers within some of the studies to achieve this.
Jon Johnson will describe how the provision of technical and logistical solutions, alongside the development of new ways of working, practical demonstration, training and resource allocation has led to a positive change in the perception of the need for high quality metadata.
Read our latest blog, 'Pioneers in data discoverability – the CLOSER metadata search platform' for more
See the full IASSIST programme
---
CLOSER Discovery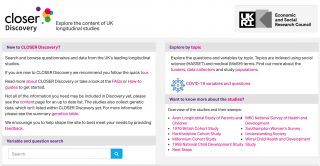 CLOSER Discovery – the UK's most detailed search engine for longitudinal data – allows users to search and explore content from multiple leading UK longitudinal population studies.
The search platform features metadata from 10 UK longitudinal population studies and includes:
300+ questionnaires
400+ datasets
47,000+ questions
177,000+ variables (including 18,000+ COVID-19 related variables)
CLOSER Discovery enables researchers to search through rich metadata, filtering by study, topic and life stage, to see which variables meet their research requirements. As well as variable metadata, the resource shows how the data were collected through questions and questionnaires. In addition, all questions and variables are tagged to a common set of topics, making it easy to explore an area of interest.
Learn how to search and explore CLOSER Discovery
Watch the demo video below to see how to search CLOSER Discovery by keyword
Watch the video below to learn how to explore by topic in CLOSER Discovery
---
CLOSER Learning Hub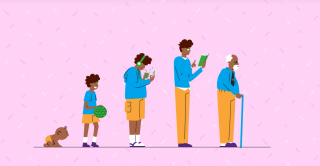 The CLOSER Learning Hub is an online educational resource designed to introduce longitudinal population studies to beginners including students, early career researchers, and policymakers.
The Hub also features teaching datasets and introductory exercises, and a number of detailed research case studies exploring how longitudinal population studies can be used to investigate topics such as obesity, social mobility, and childhood bullying.
Users can work through learning modules covering the basics of longitudinal population studies, study design, analysis techniques, data harmonisation, understanding metadata, and research communications.
Getting started
We've created a series of short 'Getting started' videos to introduce the Learning Hub and showcase how the different modules and case studies featured can support you in using longitudinal studies as part of your own research. Watch the animations below
Explore the CLOSER Learning Hub
---
COVID-19 Longitudinal Research Hub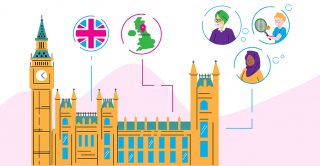 The UK's longitudinal population studies adapted rapidly in response to COVID-19 by developing and launching special questionnaires for their participants to help understand the health, social, economic and behavioural impacts of the pandemic at both a national and regional level and across all generations and ages.
Containing all the new surveys, data releases, latest research and evidence and expert opinion in one place, the COVID-19 Longitudinal Research Hub is a one-stop resource for researchers, parliamentarians and policy makers, now and in the future.
The Hub features the following sections:
Explore the COVID-19 Longitudinal Research Hub
---
Data Managers Network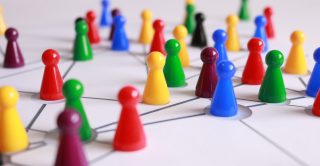 CLOSER currently manages three Communities of Practice for the longitudinal research and data communities. These networks are designed to cultivate knowledge exchange, share best-practice, and facilitate innovative and collaborative projects within each area of expertise.
The CLOSER Data Managers Network (DMN) is comprised of professionals working on study data management. The network is open to studies that form part of CLOSER and/or CLOSER Discovery, as well as professionals from the wider data management community.
The purpose of the network is to provide members with a forum for knowledge sharing, training and discussion related to the practical implementation of DDI and metadata standards. The network hosts two interactive webinars a year with invited guests who utilise these standards in the real-world.
---
Keep in touch