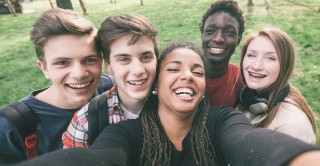 Using five years of longitudinal data from Understanding Society, a new study has considered what affects 16-25 year olds' chances of finding employment after leaving education.
The new publication was created by What Works Wellbeing and it looks at the factors that contribute to young people finding a job.
What were the key findings?
Young people with lower levels of self-reported life satisfaction were significantly less likely to go on to find a job.
Life satisfaction was a strong determinant of employment for students who are introverts – if they were "completely dissatisfied" they had only a 50% chance of ending up with a job, compared with almost 65% if they were "completely satisfied".
In contrast, students with high levels of extraversion have a higher probability of being employed (more than 70%) and this barely changes for higher levels of life satisfaction.
Young women were significant more likely to find employment than young men.
Young Pakistanis were significantly less likely to find employment than White British.
Those whose parents had lower skilled occupations (when the students were aged 14) were less likely to find a job.
We also found that respondents who scored highly on conscientiousness also were more likely to find employment.
The report also highlights why looking at young people's lives has the added advantage of enabling the researchers to separate out the effect of wellbeing on employment status from the effect of employments status on wellbeing.
"As the people in the study have no previous employment or unemployment history, their life satisfaction cannot have been influenced (either positively or negatively) by prior work experience or career trajectories. Since all the young people in the sample are in the same position, this means that we are able to explore how life satisfaction influences employment outcomes without having to worry about how previous employment outcomes have influenced life satisfaction. Therefore, this approach allows a clearer view on causality."
In the Understanding Society interview, young people aged 16-21 years old answer additional questions in the adult survey.
You can see more about the information that Understanding Society collects from young people here.
Read the survey questions that young people answer.
NB Please note that this news article has been reposted from the Understanding Society website.