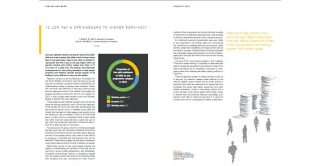 Understanding Society has published its sixth 'Insights' report, shedding new light on three aspects of 21st-century life in the UK.
The report presents research using Understanding Society data focused on three policy areas: low pay and work, adult mental health and work/life balance.
In the first area, researchers interrogating the data found that older workers, people with disabilities and single parents were less likely to progress from low pay. Where workers lived had an impact on their progress from low to higher paid work – those living in neighbourhoods with high unemployment were more likely to progress to better paid work than similar workers in neighbourhoods with low unemployment.
They also discovered that older workers, people with disabilities and single parents were less likely to progress from low pay.
The report also considers if the various challenges faced by different minority groups in society are having an impact on their mental health. Among the report's findings are that ethnic minority people who reported repeated occurrences of racial discrimination had poorer mental health than members of ethnic minorities who didn't experience discrimination or reported one instance only. They also found that adults who identified as lesbian, gay or bisexual were twice as likely as heterosexual adults to experience mental health problems such as anxiety or depression.
Finally the report investigates how people's lives at home and work interact, including flexible working and provision of care. It found that entering a caregiving role for more than ten hours a week was linked to people leaving paid work.
The report was launched at an event in Westminster, London, chaired by economist Vicky Pryce and attended by policymakers, academics and think tanks.
Understanding Society: the UK Household Panel Survey is one of eight UK longitudinal studies that form part of the CLOSER (Cohort and Longitudinal Enhancement Resources) network. Alison Park, Director of CLOSER, said: "The Insights reports are a great example of how longitudinal data can help to inform policies that shape society."
Read more and download the report on the Understanding Society website.