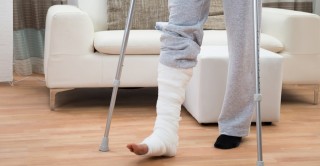 Older adults with a history of heart disease have lower bone mineral density, putting them at greater risk of fractures, according to new research.
Researchers analysed data from 350 older adults born in the 1930s and being followed by the Hertfordshire Cohort Study. Of these, 75 had a history of heart attack, angina or heart failure.
The study, published in Osteoporosis International, is thought to be the first to use a new technology, HR-pQCT, to measure bone geometry and bone density volume in connection with cardiovascular disease.
Researchers found that people with a history of heart problems and women tended to have lower bone density – or weaker bones.
The authors pointed out the need to better understand the association between heart disease and bone health.
Cyrus Cooper, director of the MRC Lifecourse Epidemiology Unit at the University of Southampton, said: 'These findings highlight the need to evaluate a history of heart disease in the management of osteoporosis in older people and further research is also needed to provide a better understanding of the underlying mechanisms which explain the link between osteoporosis and heart disease.'
Further information
Read the paper Ischemic heart disease is associated with lower cortical volumetric bone mineral density of distal radius, J.Pacchou et al (2015)
Further reading CHD linked to osteoporosis in older adults (2015).
About the Hertfordshire Cohort Study
The Hertfordshire Cohort Study is following 3,000 men and women born in the English county of Hertfordshire in the 1930s. The main aim is to discover as much as possible about how a person's inbuilt makeup (genome), and the environment they experienced during early life (in the womb and first few years of childhood), affect their health and ageing in later life. The study is based at the MRC Lifecourse Epidemiology Unit in Southampton.