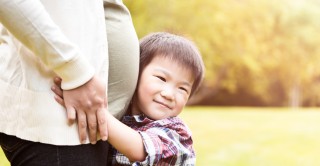 Children are almost 5 times more likely to be obese or overweight at age 6 if their mothers face multiple health risks during pregnancy and after birth.
Researchers at the University of Southampton analysed information from 991 mother and child pairs taking part in the Southampton Women's Survey.
They found that five health risks to the mother contributed significantly to the likelihood that their children would be obese: being obese before getting pregnant, gaining excess weight, smoking or having low vitamin D levels during pregnancy, and breastfeeding for less than a month.
More than one third of the mother-child pairs had experienced one of the health conditions, 30 per cent had been exposed to two, but only 6 per cent had experienced four to five.
Around 54 per cent of the women had low vitamin D levels, 48 per cent had excessive weight gain during pregnancy, 36 per cent breastfed for less than one month, 14 per cent were obese before getting pregnant, and only 14 per cent had smoked.
Children had 47 per cent more fat mass at 6 years old if they were exposed to 4-5 of these risks, compared to children who had not experienced any. At 4 years old, children were almost 4 times more likely to be obese or overweight if they had been exposed to 4-5 risks.
The children's obesity was measured at 4 and 6 years old using Body Mass Index (BMI), fat mass and weight measurements.
Although children exposed to the health conditions were much more likely to be obese, only 2.8 per cent of the children were obese at 4, and 3.3 per cent at 6.
However, the researchers believe that it is vitally important for mothers to improve their health choices as early as possible in order to prevent their children from becoming obese.
"The risk of being overweight or obese between children who had a number of early-life risk factors and those who had none is an indication of the potential public health significance of early influences on obesity.

"Body composition tracks from early childhood, suggesting that these differences will persist into adult life. The Southampton Women's Survey data, together with findings from other cohorts, make a clear case for interventions earlier in the life course," the researchers conclude.
Read the full report, 'Modifiable early-life risk factors for childhood adiposity and overweight: an analysis of their combined impact and potential for prevention' on the American Journal of Clinical Nutrition website.