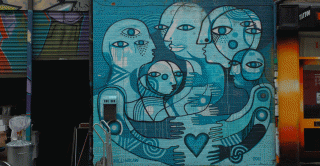 A new report using international survey data has revealed that engaging in arts and culture has a positive long-term effect on health and longevity, leading to a call for further UK-based research using the country's portfolio of longitudinal studies.
Dr Rebecca Gordon-Nesbitt at Arts for Health at Manchester Metropolitan University has uncovered evidence from fifteen international – largely Nordic ­­– longitudinal studies, stretching back a number of decades, which shows a significant association between arts engagement and longer lives better lived.
The evidence from these international studies suggests that attending high-quality cultural events has a beneficial impact upon a range of chronic diseases over time. This includes cancer, heart disease, dementia and obesity, with an inevitable knock-on effect upon life expectancy.
In the new report, Dr Gordon-Nesbitt brings together the possible explanations researchers have posited for this positive association between arts and health, from social capital to psychoneuroimmunology (or the mind-body connection).
One of the most compelling potential explanations for the beneficial impact of arts engagement on health comes from the field of epigenetics, specifically the idea that 'environmental enrichment' – in this case, cultural activity – can cause certain harmful genes to be switched off, enabling health-protective effects to be communicated from one generation to the next.
As Dr Gordon-Nesbitt highlights in her report, there is also every chance that any positive health effects attributed to arts engagement are the result of a hidden factor, most likely a socioeconomic one. As such, the report makes a potent case for further research into the inequalities that mediate our access to health and the arts.
Among public health policy-makers in the UK, there is evidence of lateral thinking about the arts. However at local authority level, this tends to lead to instrumental approaches – that is, thinking of the arts only in terms of prescriptive clinical outcomes. But, as demonstrated in the report, beneficial health effects from engagement with the arts arise far beyond the clinical environment.
At the same time, UK funding cuts have created a climate in which the arts have to prove their worth, and cultural policymakers in the UK have repeatedly pointed to a lack of evidence of how engagement in the arts – either as a participant or practitioner – affects physical health over time.
A better understanding of the long-term impact of cultural pursuits on our individual and collective health would make an invaluable contribution to the evidence base available to UK policymakers and arts funders.
For an introduction to UK longitudinal studies, Dr Gordon-Nesbitt points to the Department for Culture, Media and Sport (DCMS) database of Longitudinal Data Sources and the Scottish Government's Inventory of UK Longitudinal Surveys. She also undertakes a critical analysis of the utility of various UK-based data sources to longitudinal studies of the relationship between arts engagement and health. The British Cohort Study 1970, the English Longitudinal Study of Ageing and Understanding Society were found to be particularly fruitful, as well as the survey Taking Part, operated by DCMS in collaboration with cultural and sporting partners.
Dr Gordon-Nesbitt urges researchers to, 'continue interrogating longitudinal data while not forgetting the socioeconomic factors that mediate the relationship between arts engagement and health.
'A much better understanding of the cultural value of encounters with the arts is also needed at the same time as any second-order impact is explored.'
Further information
Arts for Health at Manchester Metropolitan University is the UK's longest established arts and health organisation. With specialism in research, advocacy and development, it is working with Arts Council England and the Department of Health and a range of partners to better understand the impact of creativity, culture and the arts on health and wellbeing.
Exploring the Longitudinal Relationship between Arts Engagement and Health (2015) by Dr Rebecca Gordon-Nesbitt. R.Gordon-Nesbitt@mmu.ac.uk
Dr Gordon-Nesbitt conducted the research as part of the Cultural Value Project initiated by the Arts and Humanities Research Council to explore the individual and social value of the arts and culture.
For more information on the evidence base revealed during the research: http://longitudinalhealthbenefits.wordpress.com.