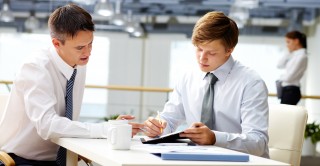 Researchers have analysed data from the British Household Panel Survey, the predecessor to Understanding Society, over an 18 year period to investigate the personality traits of managers in Britain.
The paper published in Emerald Insight aimed to investigate the relationship between the Big-Five personality traits: Extraversion, Agreeableness, and Openness to Experience, Conscientiousness and neuroticism and employees' chances of becoming managers, paying particular attention to gender and sector differences.
Professor Yannis Georgellis, University of Kent said, "Female managers are more likely than males to have stronger personalities. In particular, conscientiousness, extraversion, and openness have a stronger impact on the propensity of female employees becoming managers than that of male employees."
"The proportion of female managers reporting high levels of agreeableness and neuroticism (41 and 49%, respectively) is also much higher than the corresponding proportion of male managers (29 and 33%). However, females who score highly on Agreeableness are 5.7% less likely to be managers in the private sector, 7% less likely in central government, 4% in local government and almost 7.5% less likely in non-profit sectors."
Key findings
On average, men in managerial positions are 42 years old, which is slightly older than the mean age of women.
In terms of educational qualifications both men and women managers are equally likely to have a first undergraduate degree.
Noticeably, the proportion of women managers with a teaching or a nursing qualification is slightly higher than that of men.
About 75% of men in managerial positions are married and about 76% have children less than 16 years of age. In contrast, only about 57% of women managers are married and they are more likely, compared to men, to be single/never married (26%) or divorced (13%).
On average, male managers are less likely than women to have health problems, they work longer hours, they earn higher wages, and they report higher annual incomes.
The data also shows that male managers are more likely to be in the private sector (77%), with only about 9% working in the local government sector. In comparison, only about 50% of female managers are working in the private sector, while a sizeable percentage (about 22%) working in local government.
What impact could this research have?
Professor Georgellis said, "A practical implication of these findings is that individuals who aspire to managerial positions need to have a greater self-awareness of their personality traits, which although tend to be inherited and are stable over time, they can still be developed by appropriate training and experiences."
NB Please note that this news article has been reposted from the Understanding Society website.