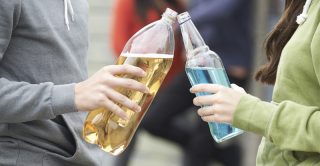 Just under half of young people in the UK had tried alcohol by the time they were 14, with more than one in ten confessing to binge drinking, new findings from the Millennium Cohort Study have revealed.
Researchers at the Centre for Longitudinal Studies, part of the UCL Institute of Education, examined data collected from more than 11,000 14-year-olds about their experiences of a range of different risky activities, including drinking, smoking and drug-taking.
Study participants, whose lives have been tracked through the Millennium Cohort Study since they were born at the turn of the century, had previously been asked about drinking and smoking when they were 11. Comparing their answers at age 11 and at age 14, revealed big increases in the rates of both binge drinking (having five or more drinks at a time on at least one occasion) and smoking among the group. Less than 1 per cent had been binge drinking by age 11, compared to almost 11 per cent at age 14. 3 per cent had tried a cigarette by the time they were 11 with the figure jumping to 17 per cent by age 14. And around 6 per cent of 14-year-olds had taken drugs, mostly in the form of cannabis.
Young people who had smoked for the first time before they were 12 were also more likely to have a smoking habit by the time they were 14. 25 per cent of those who tried their first cigarette when they were 11 or under were regular smokers by the time they were 14. By contrast, a smaller proportion (15 per cent) of those who had their first cigarette when they were 12 or older had gone on to develop a smoking habit by age 14.
Looking at the teenagers' backgrounds and where they lived, the researchers identified some interesting patterns. Comparing similar boys and girls, substance related activities were a little more common among the boys than the girls by age 14, and boys were also more likely to have started these activities at a younger age than girls; 20 per cent of boys had drunk alcohol by the time they were 11, compared to 14 per cent of girls.
Substance use was much less common in Northern Ireland than in other parts of the UK, with comparatively low rates of drinking, smoking and drug-taking. On the whole, ethnic minority teens were less likely to use substances than their white peers. 94 per cent of Bangladeshi 14-year-olds said they had never tried smoking, drinking or drugs, compared to just 44 per cent of white British 14-year-olds.
14-year-olds who had reached or been through puberty, and also those who identified as being gay or bisexual, were more likely to drink, smoke and/or take drugs. Teens were also at greater risk of taking up these activities if they were from a single parent family or had parents who drank frequently or took drugs. Interestingly, in the main, parents' education neither increased nor decreased the odds of their teenage children smoking and/or drinking.
Professor Emla Fitzsimons, one of the authors of the research and director of the Millennium Cohort Study, said: "Our findings are a valuable insight into health-damaging behaviours among today's teenagers right across the UK. There is clear evidence that substance use increases sharply between ages 11 and 14, and that experimentation before age 12 can lead to more habitual use by age 14. This suggests that targeting awareness and support to children at primary school should be a priority. Our analysis also highlights the groups most vulnerable to being drawn into substance use who may benefit from additional support."
Further information
These findings are based on the briefing paper, 'Risky behaviours: prevalence in adolescence. Initial findings from the Millennium Cohort Study Age 14 Survey'.
For a further analysis of these findings, see the working paper, 'Determinants of risky behaviours in adolescence: Evidence from the UK' by Emla Fitzsimons, Jenny Jackman, Arabella Kyprianides and Aase Villadsen.
For media enquiries, please contact:
Katherine Butler
k.butler@ucl.ac.uk
020 7911 5389 (out of hours only – 0771 885 8253)
Ryan Bradshaw
r.bradshaw@ucl.ac.uk
020 7612 6516
Notes to editors
1. The Millennium Cohort Study is following 19,517 young people born across the UK in 2000-01, building a uniquely detailed portrait of the children of the new century. For more information about the study, see www.cls.ioe.ac.uk.
2. The last survey of the Millennium Cohort Study took place in 2015-16. As part of the survey, the teenagers answered a series of questions about their experiences of taking part in a range of risky activities, from smoking and drinking to gambling and underage sex.
3. The Millennium Cohort Study is managed by CLS at the UCL Institute of Education and is funded by the Economic and Social Research Council and a consortium of government departments.
4. The UCL Institute of Education is a world-leading centre for research and teaching in education and social science, ranked number one for education worldwide in the 2014, 2015, 2016 and 2017 QS World University Rankings. It was awarded the Queen's Anniversary Prize in 2016. In 2014, the IOE secured 'outstanding' grades from Ofsted on every criterion for its initial teacher training, across primary, secondary and further education programmes. In the most recent Research Excellence Framework assessment of university research, the IOE was top for 'research power' (GPA multiplied by the size of the entry) in education. Founded in 1902, the Institute currently has more than 8,000 students and 800 staff. In December 2014 it became a single-faculty school of UCL, called the UCL Institute of Education. For more information, see www.ucl.ac.uk/ioe.
5. UCL was founded in 1826. It was the first English university established after Oxford and Cambridge, the first to open up university education to those previously excluded from it, and the first to provide systematic teaching of law, architecture and medicine. It is among the world's top universities, as reflected by performance in a range of international rankings and tables. UCL currently has over 39,000 students from 150 countries and over 12,500 staff. Its annual income is more than £1 billion. For more information, see www.ucl.ac.uk, follow @uclnews, and watch YouTube.com/UCLTV.
6. The Economic and Social Research Council (ESRC) is the UK's largest funder of research on the social and economic questions facing us today. It supports the development and training of the UK's future social scientists and also funds major studies that provide the infrastructure for research. ESRC-funded research informs policymakers and practitioners and helps make businesses, voluntary bodies and other organisations more effective.
The ESRC also works collaboratively with six other UK research councils and Innovate UK to fund cross-disciplinary research and innovation addressing major societal challenges. The ESRC is an independent organisation, established by Royal Charter in 1965, and funded mainly by the Government. For more information, see www.esrc.ac.uk.