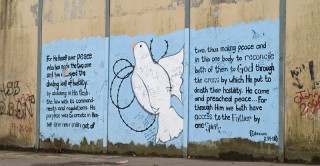 A new discussion paper analyses Understanding Society's predecessor, the British Household Panel Survey (BHPS) data to suggest that €1bn funding from a European Union programme did not help those living in the most deprived areas of Northern Ireland.
It concludes that PEACE II, a six-year program founded by the EU, has not brought long-term and sustainable peace to Northern Ireland.
After the 1998 Good Friday Agreement left communities divided, PEACE II was set up to help rebuild a peaceful and stable society. Over €1bn of public money was spent between 2000 and 2006 on small-scale community and business ventures.
The paper, Money Can't Buy Love But Can It Buy Peace? evidence from the EU Programme for Peace and Reconciliation uses data from the British Household Panel Survey (BHPS), to evaluate neighbourhood quality.
The researchers, Tilman Brück and Neil T. N. Ferguson from the Stockholm International Peace Research Institute (SIPRI) analysed responses to two questions.
Individuals were asked whether or not they like the neighbourhood in which they live; and whether or not they would like to move house.
This is the first rigorous quantitative evidence on the effectiveness of the PEACE II programme.
Key findings
No link between perceptions of neighbourhood quality and the extent of PEACE II spending in that area.
Spending appears to have reached only those communities that already had higher perceptions of quality.
Spending does not play a role in determining individuals' feelings about the neighbourhood in which they live.
This suggests that PEACE II did not necessarily reach the neighbourhoods most in need of support, and that the project (or spending) is not associated with any longer-term improvements in the areas which received funding.
Policy implications
In the report, the authors say:
"Our results offer intuition for how the effectiveness of peacebuilding programmes can be improved in the future. More careful consideration must be given, not just to the quality of the projects funded as in PEACE II, but also to the locations that will benefit most from peacebuilding investment."
More information
This news has been re-posted from the Understanding Society website. Image courtesy of Shaun Dunphy.