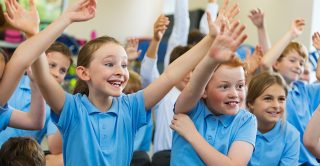 A full and active experience of school has a positive effect on the health and achievements of children who experience abuse or neglect at an early age.
Researchers at the University of Bristol looked at the influence of community factors such as education for children to successfully adapt if they were maltreated before the age of five.
Using parental survey data revealing emotional or physical maltreatment of children from Bristol's Children of the 90s longitudinal study they were able to assess how the children had good health and educational achievements despite their disadvantaged start in life. They found that factors such as taking part in after school clubs, being happy with school and not being bullied contributed towards good exam grades and general wellbeing as well as having strong communication and social skills.
Dr Nisreen Khambati at the School of Social and Community Medicine commented: "Fortunately many children who have been abused physically or emotionally can 'bounce back' with a rounded and positive experience at school.
"This research helps us understand more of the role of communities in protecting the resilience of individuals and how school-based interventions have an important role.    Overall, we found evidence that good communication skills, enjoyment of school and extracurricular activities were important factors for children experiencing emotional maltreatment benefiting both emotional health and educational achievements.
"The next step is to examine how schooling might influence an individual throughout their life if they suffered from maltreatment as a child. Thanks to longitudinal studies such as Children of the 90s we're able to look at these subjects during a whole life-span."
NB Please note that this news article has been reposted from the ALSPAC website.