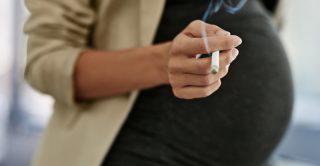 Smoking during pregnancy affects the genes of children, making them more susceptible to smoking, drinking and drug use in their teens.
A study led by researchers at King's College London analysed information on 244 young people who are taking part in the Avon Longitudinal Study of Young People and Children.
During pregnancy, mothers were asked about their smoking and drinking habits, and if they had experienced any stressful events in the run-up to the birth.
The children's DNA was analysed using blood samples taken at birth and at age 7. When the children reached their mid-teens, they were asked whether they smoked, drank alcohol and used cannabis.
Smoking during pregnancy appeared to activate certain genes in babies, namely those associated with drug-seeking behaviour and addiction.
Teenagers whose mothers smoked while pregnant were more likely to have started smoking, drinking alcohol, and taking drugs earlier, and more frequently, compared to those whose mothers did not smoke.
Drinking alcohol and experiencing stressful events during pregnancy were not found to affect children's genes in the same way as smoking.
The researchers explained that as babies' genes may be particularly vulnerable during birth, women should aim to quit smoking before becoming pregnant.
Read the full paper
'DNA methylation and substance-use risk: a prospective, genome-wide study spanning gestation to adolescence' by C A Cecil et al, was published in Translational Psychiatry in December 2016.