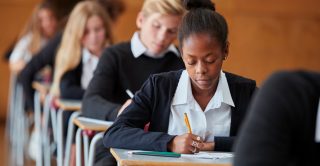 Teenagers' own career aspirations could be perpetuating the gender pay gap, researchers at the Centre for Longitudinal Studies (CLS) suggest.
New research, published today (13 December 2017) reveals that, while teenage girls are more likely than teenage boys to have high hopes of going to university and having a professional or managerial occupation, when it comes to salaries it's the boys who are aiming highest.
The research team at CLS, at the UCL Institute of Education, analysed data collected from over 7,700 teenagers in the UK who are all part of the Millennium Cohort Study, a study which has followed their lives since they were born at the turn of the century. When they were 14, the teenagers were asked a series of questions to find out their future aspirations.
Overall, the teenage girls set their sights higher than the boys when thinking about their education prospects. On average, girls thought they had a 71 per cent chance of going to university, and 14 per cent of girls were 100 per cent certain they would go. Boys were less sure; their average expectation was 63 per cent, and just under 10 per cent were absolutely convinced they would get to university.
But when it comes to their dream jobs, compared to boys, the average hourly wage for the occupations that girls aspired to was a striking 27 per cent or £6.49 lower.
For girls, the most popular jobs they aspired to were: the medical profession (8%), a secondary school teacher (8%), a singer (6%), working in the legal profession (5%), a vet (5%), a nurse (4%) and a midwife (4%).
The most popular for boys were: a professional sportsman (12%), a software developer (6%), an engineer (6%), being in the Armed Forces (4%), an architect (4%) and a secondary school teacher (4%).
While the most popular jobs for both boys and girls included some highly-paid careers, the pay among the jobs girls aspired to was, on average, much lower. This remained the case even after excluding from the calculations aspirations among a number of the boys to be (highly-paid) professional sportsmen.
Girls and boys both tended to want jobs where the workforce was dominated by their own sex. Boys chose occupations with an average workforce that is 74% male and 26% female. Girls chose jobs where women make up 59% of the workforce.
Gendered occupational segregation is a key component of the pay gap, and girls' and boys' teenage aspirations suggest that this is set to continue.
Dr Sam Parsons, one of the authors of the study, said: "We were surprised to find such gendered differences in young people's aspirations. Despite aiming high academically and professionally, girls still appear to be aiming for less well-paid jobs."
Professor Lucinda Platt, co-author, added: "Our findings drive home the importance of recognising the role of both boys' and girls' choices in perpetuating labour market inequalities. At school and at home, girls and boys should be encouraged and supported to think beyond gender stereotypes and explore the full range of future career options open to them. "
Further information
These findings are based on the briefing paper, 'The university and occupational aspirations of UK teenagers: how do they vary by gender? Initial findings from the Millennium Cohort Study Age 14 Sweep'.
For a further analysis of these findings, see the working paper, 'Is the future female? Educational and occupational aspirations of teenage boys and girls in the UK' by Lucinda Platt and Sam Parsons.
For media enquiries, please contact:
Katherine Butler
k.butler@ucl.ac.uk
020 7911 5389
Ryan Bradshaw
r.bradshaw@ucl.ac.uk
020 7612 6516
Notes to editors
1.    The Millennium Cohort Study is following 19,517 young people born across the UK in 2000-01, building a uniquely detailed portrait of the children of the new century. For more information about the study, see www.cls.ioe.ac.uk.
2.    The last survey of the Millennium Cohort Study took place in 2015-16. As part of the survey, the teenagers answered a series of questions about their future job aspirations. This included the questions 'When you grow up what would you like to be?' and 'If you do get the grades, how likely do you think it is that you will go to university?'.
3.    The Millennium Cohort Study is managed by CLS at the UCL Institute of Education and is funded by the Economic and Social Research Council and a consortium of government departments.
4.    The UCL Institute of Education is a world-leading centre for research and teaching in education and social science, ranked number one for education worldwide in the 2014, 2015, 2016 and 2017 QS World University Rankings. It was awarded the Queen's Anniversary Prize in 2016. In 2014, the IOE secured 'outstanding' grades from Ofsted on every criterion for its initial teacher training, across primary, secondary and further education programmes. In the most recent Research Excellence Framework assessment of university research, the IOE was top for 'research power' (GPA multiplied by the size of the entry) in education. Founded in 1902, the Institute currently has more than 8,000 students and 800 staff.  In December 2014 it became a single-faculty school of UCL, called the UCL Institute of Education. For more information, see www.ucl.ac.uk/ioe.
5.    UCL was founded in 1826. It was the first English university established after Oxford and Cambridge, the first to open up university education to those previously excluded from it, and the first to provide systematic teaching of law, architecture and medicine. It is among the world's top universities, as reflected by performance in a range of international rankings and tables. UCL currently has over 39,000 students from 150 countries and over 12,500 staff. Its annual income is more than £1 billion.
For more information, see www.ucl.ac.uk, follow @uclnews, and watch YouTube.com/UCLTV.
6.    The Economic and Social Research Council (ESRC) is the UK's largest funder of research on the social and economic questions facing us today. It supports the development and training of the UK's future social scientists and also funds major studies that provide the infrastructure for research. ESRC-funded research informs policymakers and practitioners and helps make businesses, voluntary bodies and other organisations more effective. The ESRC also works collaboratively with six other UK research councils and Innovate UK to fund cross-disciplinary research and innovation addressing major societal challenges. The ESRC is an independent organisation, established by Royal Charter in 1965, and funded mainly by the Government. For more information, see www.esrc.ac.uk.