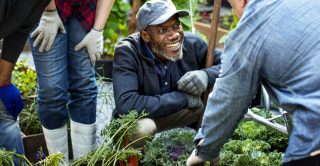 In the face of increasing global environmental concerns, people are becoming more pro-environment in their attitudes, but does this mean that they behave in a more environmentally friendly way?  Does our modern day "busyness" in life and lack of spare time prevented people from acting according to their values?
A group of ecological economics researchers used Understanding Society to try to find out. Using individual level data from two waves of Understanding Society (Waves 1 and 4, dating from 2009/2010 and 2012/2013, which included modules on environmental behaviour) they investigated the relation between pro-environmental behaviour, environmental self-perception and work-life balance.
Pro-environmental behaviour was measured through 21 behaviours relating to home energy, personal transport, recycling and shopping. Work-life balance was defined by the availability of 'leisure' time using both objective (24 hours minus the time an individual spent on sleep, work, travel to work and housework) and subjective measures – the self-perception of facing daily time constraints. Only employed participants were used in the sample to better estimate the objective work-life balance measure.
Key findings
Work-life balance does not affect the relation between environmental self-perception and pro-environmental behaviour
But, subjective feelings about work-life imbalance can hinder more time-intensive pro-environmental behaviour. People act less 'green' when they feel they don't have a good work-life balance.
The actual availability of leisure time does not affect pro-environmental behaviour
Environmental self-perception has a strong impact on pro-environmental behaviour
However, some individual and household factors can make a big difference:
People who perceive themselves as environmentally-friendly are more likely to behave pro-environmentally
People become 'greener' as they get older
More educated people (those with a university degree) are more likely to behave pro-environmentally
Higher household income tends to lower pro-environmental behaviour because of higher consumption levels
For people with small children time constraints have an impact on how pro-environmental they are. Location matters– differences in local area infrastructure , for example transport networks and recycling centres. can affect the uptake of pro-environmental behaviours
Policy implications
Policies aiming to encourage pro-environmental behaviours should focus on helping individuals to cope psychologically and emotionally with feelings of time pressure and overworking, rather than just adapting work legislation to offer better work-life balance.
Further information
Read the article: Does Work-life Balance Affect Pro-environmental Behaviour? Evidence for the UK Using Longitudinal Microdata by Patricia C.Melo, Jiaqi Ge, Tony Craig, Mark J. Brewer and Ines Thronicker, published in Ecological Economics, March 2018