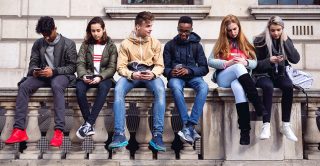 The Children's Society has used Understanding Society to look at the support 16- and 17-year olds are given as they make decisions about their future.
There are nearly 60,000 vulnerable 16- and 17-year-olds in the UK facing issues like domestic violence, mental health problems and poverty. Like all young people, these teenagers have to start thinking about adult choices like getting a job, paying for a home, budgeting for their expenses, and relationships. These choices can be hard to make without the right support.
The Children's Society has published a report, Crumbling Futures which shows that many of these 'children in need' feel that they don't get enough support and that it is difficult to adjust when that help ends when they turn 18.
The report found the following:
 77% of young people experienced one or more vulnerabilities, which could include neglect, poverty, mental health problems or exploitation.
1 in 16 of 16- and 17-year olds in England is referred to children's services for help. They are just as likely to be referred as younger children.
Children who were unhappy, in poor health, or who did not feel they were supported by their family at the ages of 16 and 17 were more likely to experience other vulnerabilities at 18 and 19 years old.
The report has several recommendations for government and local authorities to improve the support young people receive. These include assessing the needs of young people better and ensuring that there is transitional support available for young adults as they turn 18.
The Children's Society used information given by young people in Understanding Society from 2010 to 2015. The researchers followed one group of young people through five years of their lives, from aged 14-15 to aged 19-20. The information was used to understand how many children aged 16 and 17 are experiencing vulnerabilities and risks in their lives.
They also looked at whether these young people experienced vulnerabilities at a younger age, and after they had become adults. These vulnerabilities are things like neglect, domestic violence, substance abuse, going missing from home and mental health problems.
NB Please note that this news article has been reposted from the Understanding Society website.