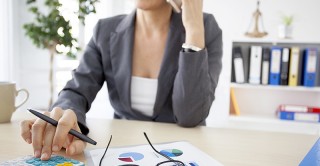 New research has looked at data over a 20-year period to uncover why the majority of working women contribute less than 40% of the household's total income later on in their lives.
The presence of young children in the home continues to be a major incentive for women to leave full-time employment.
The study published in Research in Social Stratification and Mobility was carried out by researchers at the University of London.
The researchers chose to look at women who were in full-time employment originally to determine why many women become part-time workers.
The team did a comparative analysis of Eastern Germany, Western Germany and the United Kingdom using data from Understanding Society, and its predecessor, the British Household Panel Survey, and the German Socio-Economic Panel.
Three categories of women were identified as:
Breadwinners (earns at least 60% of total gross household wages)
Secondary earners (earns less than 40% of total gross household wages)
Equal dual-earners
What were the key findings?
If a woman's earnings are lower than that of her partner, her secondary earner status significantly increases the likelihood that she will no longer be in full-time employment later in life.
Female breadwinners in low-income households are more likely to decrease their working-hours compared to female breadwinners in higher-income households. Tests revealed this result to be driven by women in households whose husbands are not in full-time employment, this suggests either that they choose to decrease their hours to spend time with their partners, or that this segment of the workforce is exposed to involuntary part-time employment. The researchers define households as 'low-income' when the main earner's income is less than 60% of the national average household income.
Gender inequalities in housework means women are more likely to start working part-time. Only 5-14% of couples reported equality in housework contribution and women who engaged in more housework than their male partners were significantly more likely to leave full-time for part-time work in the UK.
The presence of young children in the home continues to be a major incentive for women to leave full-time employment, with the number of children in the household the most powerful predictor of moving to part-time employment. Also having children aged between the ages of zero and four have the strongest impact on becoming part-time.
What were the differences between the UK and Germany?
In Eastern Germany women were more likely to be equal dual-earners in the first half of the observation period (1992-2012) though by the second half of the observation period the researchers noted a strong decline in equal-earning.
In Western Germany most women were secondary earners throughout the observation period.
The UK is similar to Western Germany – most working women tended to be secondary earners, 50-60% of the sample. The second most common group were equal dual-earners accounting for 20%, and female breadwinners constituted a minority group.
Why was longitudinal data needed for this research?
Dr Vanessa Gash, University of London said, "We used German and British longitudinal data in order to analyse trends over time and to investigate how the factors affecting transitions from full-time to part-time change with time."
What were the policy recommendations?
Dr Gash said, "We still have a long way to go to ensure that women are supported in full-time employment throughout the life-course. However, increasing women's ability to work full-time throughout the life-course is not the only possible strategy to achieve gender equality in the labour market.
"Policy initiatives and cultural change that enable and encourage men to be more involved in the domestic sphere and reduce their working time is another strategy to reduce the amount of economic and labour market inequality between men and women. Such a change would allow both partners to reduce their working hours during 'family intensive years' (e.g. while the children are small). Future research could investigate the contextual conditions under which such a dual part-time working strategy can be realised."
NB Please note that this news article has been reposted from the Understanding Society website.