The connection between drinking and disorder in Britain has long been established as a problem. But why is it that only some people behave violently when they drink? In fact, many people drink and cause no trouble at all: they seemingly become more relaxed, friendly and outgoing. Whilst, on the other hand, there are those who get in trouble, do things they regret or even end up in violent confrontations.
Existing research suggests it is not drinking per se that is associated with violent behaviour. Rather, it's factors such as people's patterns of drinking, their stage in the life course, and the wider social and cultural context that can influence the likelihood of becoming violent when drinking alcohol. We also know that the strength of the alcohol-violence relationship varies between different countries and cultures.
For these reasons it seemed important to consider attitudes held by young people about alcohol consumption when studying the alcohol-violence relationship amongst English and Welsh youth. Not only can attitudes reflect wider cultural norms, but those we hold in late adolescence and early adulthood are likely to be distinct from those we hold in later life: it is hypothesised that our attitudes change with increased maturity and life experience.
My PhD investigates, amongst other things, whether there are groups of individuals who hold similar attitudes towards alcohol consumption, and whether these attitudes mediate the alcohol-violence relationship amongst young people in England and Wales. I used longitudinal panel data from the Home Office's Offending Crime and Justice Survey (OCJS) to explore self-reported violent offending (assault offences), alcohol consumption patterns, and attitudes towards drinking alcohol. The focus was on young people aged 16 to 29 as this was thought to be a group who were likely to be drinking frequently and doing so in public nightlife environments without parental supervision.
I thought it useful to assess whether there were distinct groupings of like-minded individuals with regards to their attitudes about drinking Figure 1 below distinguishes between 'social drinkers' (21% of the sample), 'positively motivated drinkers' (56%) and 'problematic drinkers' (23%). From Figure 1, we can see that 'problematic drinkers' were more likely to agree with all five reasons for drinking, but are distinct in their stronger agreement with drinking to get drunk and to forget their problems, as well as experiencing adverse effects of drinking, such as doing things they regret. 'Social drinkers', on the other had, tend to disagree with these items suggesting their drinking makes them relaxed as well as friendly and outgoing. 'Positively motivated drinkers' tend to agree even more strongly that drinking makes them feel relaxed and makes them more friendly and outgoing.
Figure 1: Response probabilities for agreeing with the alcohol attitude survey items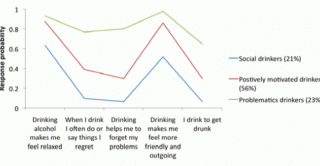 I then used these classifications to assess the role of attitudes in mediating the alcohol-violence relationship. The probabilities shown in Figure 2 below highlight that whilst risk tends to reduce with age, 'problematic drinkers' are disproportionally likely to commit an assault at any age, but especially when they're young.
Figure 2: Predicted probability of committing an assault offence by age and drinking attitude classification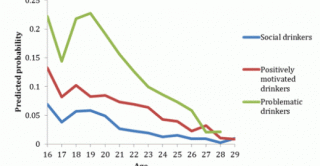 To my mind, these findings suggest that we can't just simply alert young people to recommended safe alcohol consumption limits or the negative health implications of heavy drinking. Instead we need to work with them to tackle some of the problems and difficulties they face, for example by signposting to or providing services to help them avoid turning to alcohol to 'cope' or 'forget'. My study, as well as the work of scholars in the US, provides evidence to support tailored interventions targeted at distinct groups of young people who have similar attitudes and motives for drinking.
Given these interesting findings, I believe we need to continue to explore both the cultural and developmental aspects of the alcohol-violence relationship. However, with the OCJS decommissioned in 2006, the first step will be to gain a commitment to collect nationally representative longitudinal data on young people's offending and drinking behaviour. Such efforts should consider routinely measuring attitudes, expectancies and motives for alcohol consumption. Such measures ought to reflect existing social theory, and, where appropriate, be based on previously validated measures to allow for more meaningful substantive analysis.
Carly Lightowlers is a lecturer in Criminal Justice at Liverpool John Moores University (School of Law).
Connect with Carly on Twitter @Carly_LL
Related publications:
Lightowlers C. (in prep). The role of attitudes in shaping alcohol consumption and violent behaviour amongst young people in England and Wales.