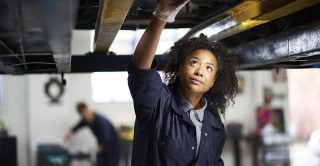 Young people trying to move from education to employment during the height of the financial crisis (2007-2009) will feel the negative consequences (or scarring) on income, job opportunities and wellbeing throughout their lives, according to the latest research.
The new findings have been published by researchers at the Oslo and Akershus University College of Applied Sciences to inform Negotiate, a research project centred on young people in Europe.
The project has suggested that those who were aged 18-24 years during the 'Great Recession' (2007-2009) could be considered as the 'new lost generation' because of the lack of opportunities they have faced. They reached these conclusions after using data from Understanding Society.
Dr Hyggen said, "Today's lost generation, now coming up to their thirties, has been scarred and may never get a foothold in the labour market even when times improve. The marks of the recent so-called 'Great Recession' have damaged both their possibilities and abilities to grow up and enter the adult world."
"It is important to understand scarring because it gives us insight into policy and programmes aiming at reducing unemployment and improving young people's ability to cope with and escape unemployment," says Dr Hyggen.
Traditionally, research on scarring has focused on future job prospects and the effect on income later in life. This study, however, takes a broader approach.
Dr. Shawel Abebe said, "Our study examined the effects of scarring by using repeated measurements. Our study also investigated how individual and family characteristics affect labour market participation during the transition to adulthood."
Key findings
After the financial crisis hit Europe, youth unemployment rates rose, and have only recently decreased to pre-financial crisis levels.
Education, parental education and psychological well-being may reduce the effects of an early unemployment episode on long-term employment outcomes.
Females without a degree have a greater risk of unemployment than males.
Another interesting difference between men and women is that men are better off being in a couple, compared to being single, as this reduces their likelihood of being unemployed or in part-time permanent employment. This is not the case for young women in a couple: they are less likely to be unemployed but more likely to be in part-time permanent employment.
Why are the policy implications?
This longitudinal study is aimed at investigating how the experience of early unemployment, and individual and family characteristics during adolescence can cause long-term employment issues. Such knowledge is important for policy and programs aimed at reducing unemployment and improving the ability for young people to cope with and find employment, as well as reducing socio-economic inequality in the general population.
NB Please note that this news article has been reposted from the Understanding Society website.